About Us / History
Founded in 1983, Salco Products, Inc. designs, manufactures, assembles and distributes a variety of plastic and metal products used in tank cars, hopper cars and plant process equipment. The global industries we serve include railroad, trucking, chemical manufacturing and distribution, agriculture, food, plastics and minerals.With a broad product line ranging from valves and fittings, to being North America's largest 20" plastic hatch cover supplier, we are ready to serve your needs.
Our commitment to prompt response in sourcing, quoting and delivery remains our number-one priority. With a full engineering staff, Salco Products is also ready to help design and provide any parts you may need.
Salco's corporate headquarters is located in Lemont, IL; and Sales and Distribution facility is maintained in Houston, TX.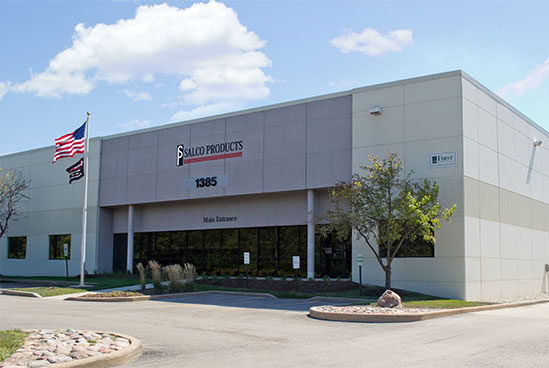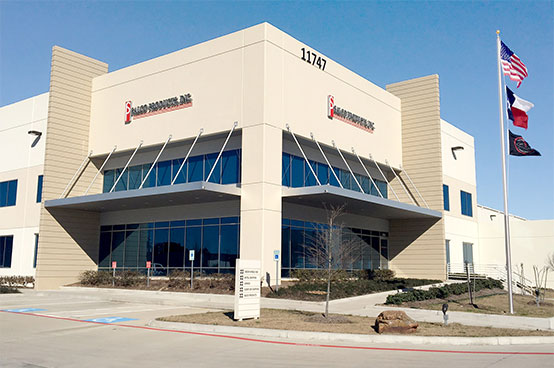 OUR HISTORY

1983 -

IT ALL BEGINS

It all began in Oak Lawn, IL in a garage with an idea to meet a need to create something better. Salco recognized a niche to assist in supplying outlet caps in a market that needed a solution to limit theft of valuable steel components. By supplying a plastic outlet cap that was not so attractive to an "alternate" market, Salco quickly became a valued part and solution provider.

- 1984

PUTTING DOWN ROOTS

Salco moved into it's first warehouse located in the western suburbs of Chicago, IL.

1985 -

ESTABLISHING A PRESENCE

During the years of 1985 and 1986 Salco was hard at work establishing a presence in the Gulf Coast region.

- 1986-1987

NON-VENTED HATCH COVERS

Salco began to mold and sell it's first non-vented hatch cover.

1988-1989 -

VENTED HATCH COVERS

Development of vented hatch cover and commercial sales, began injection molding operations in house.

- Early 1990's

SERVICE CENTER IN TOMBALL, TX IS BORN

A need for outlet gate reconditioning is recognized, and our Service Center in Tomball, TX is born.

Early 1990's -

ENTERING TANK CAR COMPONENT MARKET

Salco enters the tank car component market and starts to supply tank car loading and unloading adapters.

- 1996-2000

MOVED TO LEMONT, ILLINOIS

Moved to Lemont, IL and enjoyed elevated hatch cover sales due to increased hopper car production. Shipped its first tank car nozzle gasket.

2001-2002 -

DIVERSIFICATION OF PRODUCT LINE

Began diversification of product line to include distributed components/supplier. Implemented Made 2 Manage ERP software and expanded our quality process.

- 2004

PURCHASED HAZARSOLVE®

Created a new product line to offer corrosion resistant solutions to the chlor-alkoli market.

2006 -

AND THEN THERE WAS ONE

Salco transitions from three owners to one, setting the stage for "one owner, one vision, one goal".

- 2007-2009

HAZARSOLVE GROWTH

Hazarsolve product line growth exceeds 40% annually, propelling company through the recession of 2008/2009.

2010 -

ADDED WAREHOUSE AND EQUIPMENT CAPACITY

Added to warehouse and equipment capacity in Lemont, IL. Started RMA measurements showing 97%+ effeciency in handling approximately 80 orders a day.

- 2013

30 YEAR ANNIVERSARY

30 years - poised for 50 million in revenue.

2014 -

TECHNICAL CONSULTING SERVICES

Technical Consulting Services are added to Salco's diverse product and services offering, meeting an industry demand for support in navigating regulatory changes.

- 2017

NEW HOUSTON, TX FACILITY

Salco's new Houston, TX facility is 3 times the size of the old Tomball, TX facility, which enables Salco to stock a larger volume and variety of materials closer to our customers in the gulf coast. Brand new equipment in our manufacturing areas will improve production efficiency, as well as improve the health, safety and comfort of our employees.

2018 -

35 YEAR ANNIVERSARY

Salco Products celebrates its 35 year anniversary, poised for 80 million in revenue.

- 2020

SALCO JOINS THE A.STUCKI FAMILY

2023 -

40 YEAR ANNIVERSARY

Salco Products celebrates its 40 year anniversary. We thank our customers and vendors who have contributed to our success over the past 40 years.