David Campbell Joins Salco Products Engineering and Technical Consulting Services Group
September 10, 2018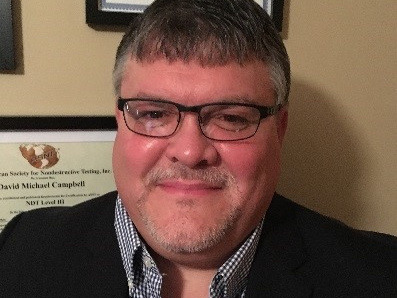 Lemont, IL (2018) Salco Products, Inc. is proud to announce, and welcome, David Campbell as Salco's newest staff member to join our Technical Consulting Services group.
David Campbell, Performance Assurance Engineer, Welding and NDT Processes, has 30 years of experience in off shore activities in manufacturing, fabrication, and quality assurance management. His career has been comprised of three major industry sectors: Power, DOT (Infrastructure) and Railroad Tank Car Manufacturing.
David's career has been focused on ensuring quality compliance with a primary focus on nondestructive testing (NDT), developing and maintaining quality systems, procedures and specifications relating to Codes, such as ASME, AAR/ FRA, AWS, ANSI, IS0 9001 and a multitude of State DOT specifications. David has a successful history of managing client relationships in the field of inspection and NDE testing of fabricated steel products, as well as the training, testing, and supervision of inspection and testing personnel.
David will provide to our clients, expertise in welding, nondestructive testing Level III services, as well as quality assurance support. David attended Pennsylvania College of Technology, where he majored in Welding Technology with an NDT emphasis. David holds his ASNT Level III's (#168888), in RT, UT, MT and VT, including Optical Testing. David is also an AWS CWI (#14110511), ASNT ACCP Level ll (#168888), Pressure Equipment, and is a Six Sigma Green Belt.
"We are extremely fortunate to gain an employee of David's caliber" commented Tom DeLafosse, Vice President, Technical Consulting Services. "His industry and technical knowledge makes him the perfect addition to the Salco Team". David's responsibilities will include providing NDT training, welding and quality assurance services to our growing list of clients within the rail industry, along with helping keep Salco the premier supplier of parts and services to our vast network of valued customers.
If you would like to contact David, he can be reached by email at [email protected] or by cellphone at: 412-807-1758.
For more information on Salco Products, please visit our website at www.salcoproducts.com or call 630-685-4661.